Little Axe Public Schools
Safe Room Rules and Procedures
Little Axe Public School has two safe rooms on campus, one in the elementary and one at the secondary sites.

During school hours, students and staff have priority for safe room occupancy.

The secondary sites' safe room is open to the public outside of school hours.

School hours are from 7 a.m. to 4 p.m.

The Safe Room is open to the public when there is an active tornado warning issued by the National Weather Service. The shelter may be opened before a tornado warning is issued if the school administration believes a dangerous storm system is approaching our area. If safe rooms are opened ahead of a tornado warning or activation of storm sirens, that information will be announced via the school's text messaging system and on the school's Facebook pages.

The safe room is accessible through the high school gym door or the shelter door (see details below). Once a tornado warning is issued, the storm door will not be opened and the only entrance will be the gym door.

Due to safety concerns, the safe room doors must remain closed at all times. We highly discourage loitering outside the safe room.

The safe room will remain open only until the warning is lifted. When the warning expires, the safe room must be evacuated.

Weapons are prohibited in the safe room.

As always, Little Axe Public School is an alcohol and tobacco-free campus. Smoking, vaping, or the use of tobacco in any form is prohibited in the safe room and on all school property. Alcohol and drugs (other than those prescribed by a doctor) are prohibited in the safe rooms and on all school property.

Pets are not allowed in the safe room due to allergies and safety concerns.

Radios or music devices may be used only with individual earphones.
If a tornado occurs during the school day, students will be moved to the safe rooms in accordance to LAPS safety plans. This will be communicated via text and Facebook.
In the event that a tornado hits the school, post-severe storm procedures are in place. Evaluation for the best course of action will be made, depending on damage and road conditions. Reunification plans will then be communicated via text and Facebook. In the case of an internet/cell outage, this communication will be through the news or emergency services.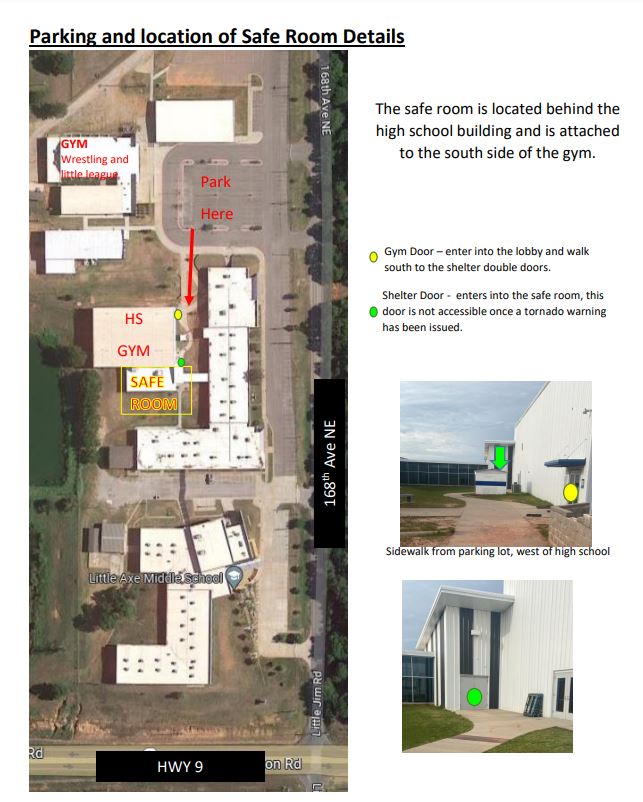 National Weather Service, Norman
A few helpful tornado season tips
Develop a plan with your family. Practice this plan and be sure all family or group members are aware of the plan.

Do not wait until the last minute to get in your car and drive to a shelter in the event of a tornado.

Prepare a go bag with necessary items which may include:

important papers: insurance information, passports, birth certificates, social security cards, and car titles.

Charge all phones, laptops, and extra battery packs.

a bag of clothes for a few days.

Wear appropriate shoes with socks in case you end up having to walk out of a disaster zone.

Photograph and/or take a video of your home and belongings. If possible, upload these to the cloud.