HS Enrollment is now open. Please use
www.Wengage.com/littleaxe
to enroll your student. Select the Student Records Portal. If your student is new to our district or was not enrolled as of February 1st of last year, please select "Enroll New Student." If your student was enrolled after Feb. 1st of last year and was enrolled for the remainder of the year please select "Enroll Student- 2022-2023." If you do not know your Wengage Parent Portal Login information, please email with your name, your student's full name and grade to
Tiffany.dunkle@littleaxeps.org
or
Elizabeth.g-gross@littleaxeps.org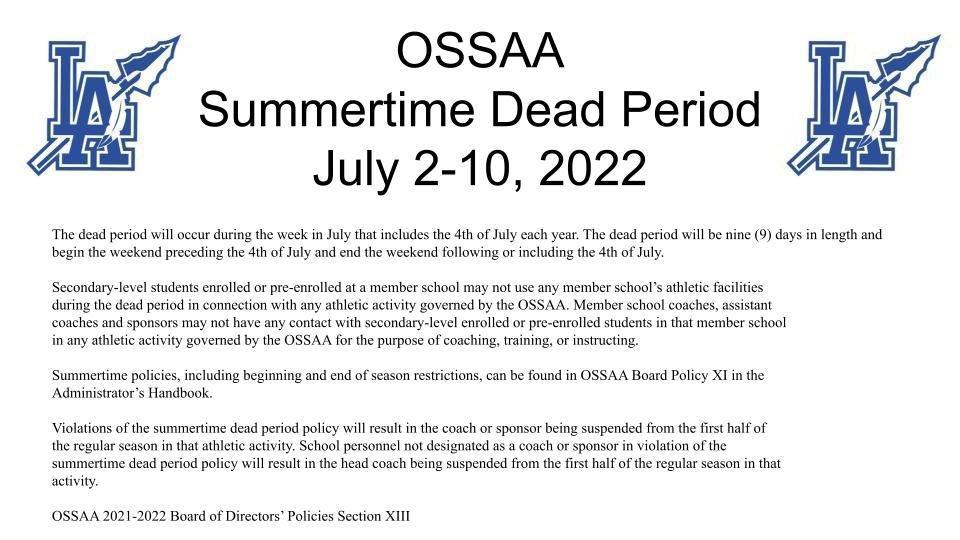 A football parent meeting will be held for anyone entering the 6th-12th grade on June 7th at 6pm in the home bleachers at the football field. Any questions about this meeting please reach out to Coach Lanham 405-802-3334
The graduation ceremonies for the Class of 2022 will begin at 6:30 pm, and live-streamed at the link below. The live-stream begins at 6:15 pm.
https://youtu.be/QwBCQpEJZ6w
You are invited! Come celebrate the graduation of the Little Axe High School Class of 2022, Friday May 20th, 6:30 p.m. at Firelake Arena in Shawnee, OK. Doors open at 6:00 pm.
Students/parents--remember to return your school-issued laptops and charging cords to the high school office tomorrow after completing your finals, including seniors. Students who have signed up for summer school will be given their laptops when they return over the summer.
***CORRECTION*** The NHS Induction Ceremony on Monday, May 9th, is at 6:00 p.m.
Athletics physicals will be Monday, May 9, starting at 5:30 pm with height, weight, BP, heart rate, and movement before doctors arrive. Students that are participating in the NHS Induction Ceremony(6:30 pm in the cafeteria) will be allowed to go to the front of the line for physicals.
Physicals for tonight have been postponed due to the possibility of severe weather. We will announce a make up date once it is official.
Physicals for all 2022-2023 athletes (6th-12th) will be Monday, May 2nd at 6pm in HS Gym. Cost is $10 per athlete.
Parents/guardians, at the moment we are experiencing phone issues. Continue to try calling the school, but please email your school's office staff to get in touch with us for the time being.